travels in the Canadian Rockies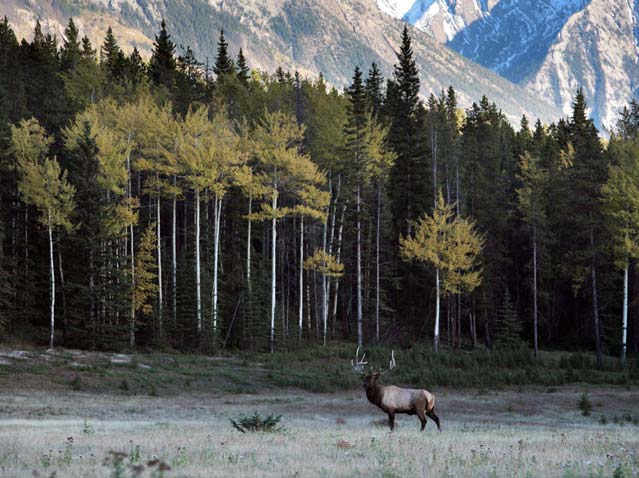 elk and aspens
I went to Alberta's Rocky Mountains in the last week of September 2006 for the landscape and wildlife. My previous visit in 2001 didn't produce much photographic output, because at the time I had an early model floppy-disk digital camera of only 1mp. I also didn't have much experience as a photographer then ( although I defy anyone to produce good landscape photography with that camera ). For my 2006 visit I took along a Canon 5D, 17-40L and 70-200L, a Tamron 28-75, Sigma 105mm macro, and Canon 35f2 and 50f1.8 lenses. The 70-200L was actually a mistake - I meant to pack a 100-400IS but the lenses look similar and I somehow got them mixed up. I was based in Banff for most of the week and stayed in Jasper for a couple of nights to get access to the northern area of the parks. I think I chose just the right time for fall colors. Although most of the trees are conifers, there are groups of aspens at lower altitudes and lots of smaller deciduous shrubs. The aspens were shedding leaves fast on the last day, despite the warm daytime temperatures, so I think the first week of October would be too late for this trip. The wildlife was more plentiful than I remembered from my last visit, and I was soon pining for the 100-400IS. Unable to fill the frame with the elk in the picture above, I decided to frame the trees and mountains as well. The elk are not hard to find in Banff and Jasper National Parks. For some reason the park guide lists them with bear and wolves as dangerous animals. I don't buy this - they're harmless. They are actually very similar creatures to English red deer.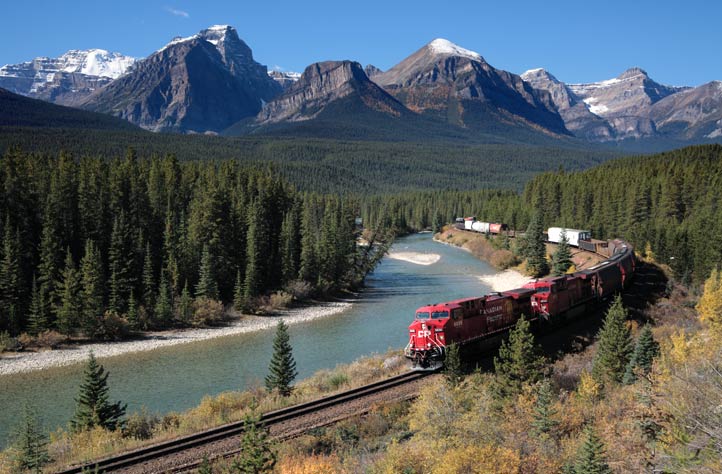 Morant's Curve
I was lucky on my first day to meet a local man at a viewpoint on the Bow Valley Parkway overlooking a railway running beside the river. He explained that the place was called Morant's Curve, named after the railroad's photographer Joseph Morant, and that a train might be along later. I decided to wait and was rewarded after about a hour. For the shot above I used the Tamron at 45mm. It's one of a sequence taken as the train came up the valley - it was moving fast but is still sharp in this image captured at 1/200s. I like the muscular shape of Canadian Pacific engines, and the red paint. They seem to fit the scene well. I have made a 16x24in print of Morant's Curve and it stands up well, although the lens is quite soft in the upper right.
red squirrel chewing a pine cone
A few times I ventured away from the roads and trails in search of more scenery and wildlife. My initial concerns were about getting lost, and I had a GPS unit with me and recorded the location of the car at each stop. But I started to get more worried about bears and wolves. I walked down to Bow Lake from the Icefields Parkway and noticed what looked like bear tracks along the lake edge. I set up the tripod and was shooting the mountains above when I heard something splashing through the water on the other side of some trees. It sounded like a big animal. I had a moment of panic as I visualised bear whose territory I was probably on, coming after me. I picked up my stuff in a few seconds and headed back up the hill towards the car. Looking back I saw it was a moose wading through the shallows.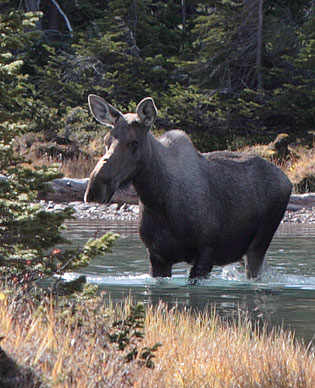 I can't tell you how glad I was to see that moose. She wasn't so pleased to see me and stopped right there in the water. I then saw another moose swimming across, up to its neck in deeper water. They seemed to be coming across from an island in the middle of the lake. I followed them for a while up into the woods but they kept their distance and the 70-200mm wasn't really long enough for this. But it was thrilling to be shooting wildlife out there.
The red squirrels proved to be easier to approach than the grey english variety I usually see, and I think they photograph better too. They were all extremely busy chewing pine cones. I saw them along some well-used trails and it's possible they were becoming tame. A group of ground squirrels at Little Beehive above Lake Louise were also approachable. I can't remember such friendly rodents anywhere in the UK. I also came across bighorn sheep and mule deer and was able to photograph them well with the 70-200. By the end of the trip I was quite pleased with the wildlife shots. My concern though, as I was saying before, is about safety out in these wild mountains. I don't think I will be repeating the trip with a 100-400IS and going after wildlife again on my own. There were some signs at Moraine Lake telling hikers to stay in groups of at least six as protection from grizzly bears. Perhaps I could travel in a group but as a photographer I want to do things in my own way and in my own time.
The landscape around the Icefields Parkway is justly famous, offering a series of stunning mountain and lake scenes that run for a hundred miles or so north of Lake Louise. The most famous places in the parks, like Moraine Lake and Johnson Canyon, were busy with tourists and did not yield the best images for me. The man I met at Morant's Curve told me about Lake Herbert but I didn't read of it in any of the guide books - it is a gem. I went there one still sunny morning when the lake was reflecting beautifully. Mistaya Canyon was a great location with a classic view of a river flowing from its source in the mountains. I found something similar in Yoho NP and at the Saskatchewan Crossing. After a while I began to worry that I was taking the same shot wherever I went ! You can't force creativity. I just need a bit more time there.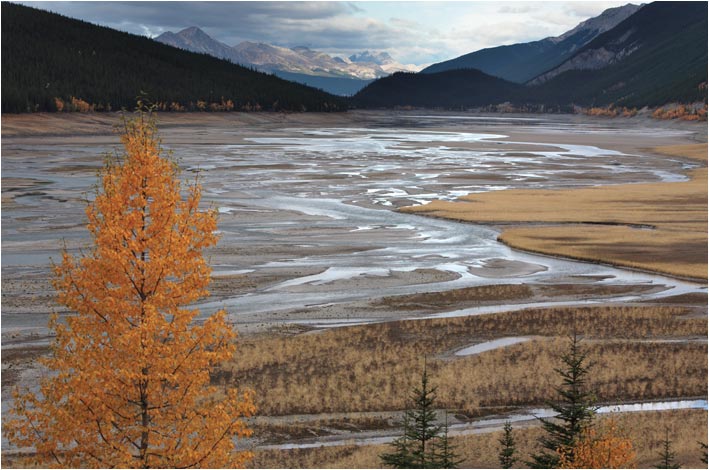 Medicine Lake, Jasper NP